The Electronic Frontier Foundation, or EFF, has been on top of issues affecting freedom on the Internet. The wiki-leaks incidents are part of that.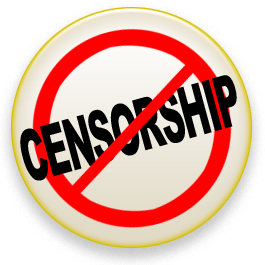 I have said they are a distraction from other important issues, but upon viewing some of the things that have happened in the aftermath of the latest diplomatic leaks, it appears that our government has made it a more central issue again.
Without a conviction or court judgment, without formal charges, without even one court-ordered warrant to search or seize even one thing, without a chance for a formal legal defense, without the chance to face its accusers, the Obama-Clinton administration barely said "Boo" and got Amazon.com host to shut down the wiki-leaks website.
They got PayPal to shut down its account and cut off Assange's access to several hundred dollars already in the account.
They got MasterCard and Visa to refuse all transactions with them.
And note that he is not even a United States citizen.
Meantime, it seems unbelievable to me that one buck private could have leaked all this. Take Hillary Clinton's order to steal credit cards and other such personal information from the diplomats at the UN.
I'm sure most of those delegations, especially the big ones, engage in the same dirty shenanigans, but to have this on a system with so many having access to it is a security breach that would horrify any CIO of any company, and would send the stock price of any such public company to the floor.
They're still blaming one buck private for all this, a guy who was probably sworn to keep these things secret and broke trust with his superiors, at least. If the charges are true, anyway.
But there is more to this.
This just may be an attempt by the United States to join the other nations of the world in high-handed attempts to control the Internet, and ban anything it doesn't like. Under cover of "protecting national secrets", watch them go beyond that to anybody who dares to information they get with others.
The KGB sent a message not so many months agone to defectors from its ranks, when it poisoned Alexander Litvinenko. The Obama-Clinton regime is trying to establish a precedent that it will use against dissenters.
Already there have been stealthy attacks on free speech in this country, which was once the very symbol of freedom for the world, a beacon of light.
In one of those attacks, Google cut off access to a website only after they had posted a video of a document analyst explaining the basis for his belief that the birth certificate posted on the candidate Obama website was fraudulent.
I don't necessarily buy into that, and I also have sharp differences of opinion with the owner of that website, but she has as much right to say something, and so does that tech, as you or I do. Natural right, constitutional right, and how about some more glasnost?
But the stats graphs the web site owner cut and pasted and posted from Google itself showed the change the day after that story appeared.
And sometimes when I click on a Yahoo search result, they first give me a yahoo page telling me that Yahoo does not approve of that site! What!?! And proceed at my own risk!
This a lying, sniveling, sneaky way to censor by scaring off people who might not be able to see through the political arrogance of such a message!
I'm still searching for a good search engine to replace google and yahoo. The problem is that most of the other "search pages" use one or both of those search engines under the covers.
—trutherator